Welcome to the journey of creating 'The Courage to be me' an illustrated book that tells the story of rebuilding your life after experiencing rape or sexual abuse.
The story behind the story
Have you ever sat in a room with someone who was showing raw courage? If you have then you'll know that experience can stay with you, move you, inspire you.
In early 2013 I sat in a room with courage. The woman who sat opposite me looked physically and emotionally uncomfortable. She struggled to be there. She struggled to sit still. She struggled to find the words. But stronger than her struggle was her determination. She found it difficult to sit with me and talk, but she was determined to continue. And so she carried on telling me her story.
I was interviewing this woman as part of a research project I was carrying out for Portsmouth Abuse and Rape Counselling Service (PARCS). My job was to evaluate some group therapy that PARCS had just delivered for women who were on the waiting list for counselling. These women had all been raped or sexually abused. They were all taking the first steps towards rebuilding their lives.
The women I interviewed told me stories of feeling isolated and broken; of entering group therapy and realising that they are not alone; of learning how we all respond to trauma and realising that they are not crazy; of rediscovering the bits of themselves they had lost as part of their effort to cope with the abuse; of realising that their old ways of coping were now holding them back; and of finding the courage and compassion to hope for a better life for themselves. There were tears during the interviews but there was laughter too.
Having watched this particular woman struggle through the interview and been moved by her courage I asked her why she had chosen to come and talk to a stranger about her experiences of therapy. She told me that she felt hopeful for the first time in a long time. She said that if the research project somehow helped one other person then everything she has been through would be worth it.
I heard her.
But what can a research project do? I knew that the research report would contain these stories. But research reports are not designed to do these kinds of stories justice. It needed something more powerful, more human – something that anyone could connect with.
And so I was inspired to produce The courage to be me, an illustrated book that tells the story of a group of women who are taking the first steps towards rebuilding their lives after rape or sexual abuse.

The Cartooning Psychologist tries crowd funding
I chose to try and raise the funds to create the book through crowd funding. I thought it would be a good way of spreading the word about the book and raising money at the same time. This was my first crowd funding campaign – I knew it would be hard work but I had no idea what I was letting myself in for…
I didn't manage to reach my target with my crowd funding – but I still managed to raise a lot of money from a lot of people.
Most importantly – it was enough to start the book.
Starting to produce the book
My first job was to select some talented illustrators to work with from the many who responded to my call for illustrators.
First up is Katie Green. Katie is a fantastic illustrator. Her first book 'Lighter than my shadow' charts her personal story with eating disorders and abuse:
Katie is the perfect illustrator for 'The courage to be me'. You can find out more about her work here. And see a preview of her forthcoming book here.
Next is Alexander Bertram-Powell. Alex is a Bristol based freelance illustrator who totally won me over with this image:
I love it – and I'm excited that some of my very poorly drawn matchstick men storyoutlines will end up looking as good as this. You can find out more about Alex and his work here.
Jade Sarson – illustrator number three for The courage to be me – is a Bletchley based illustrator, writer and comic artist.  Her work is a fusion of British roots with Japanese influences, and combines digital and traditional techniques – it has been featured in Kerrang!, Neo Magazine, Electric Bloom Webzine,Non Repro and in anthologies such as Leek and Sushi, Nami, and Parallel Lives.
Her current projects include the popular tea-inspired webcomic Cafe Suada, and her graphic novel Siddown!.
You can check out more of Jade's work on her teahermit website.
The final member of the team is Hannah Berry. Hannah is a published graphic novelist with a fantastic style that is really going to suit the chapter I've asked her to illustrate. This particular chapter is going to be quite 'dark' – Hannah is the ideal illustrator to take on this challenge.
Hannah's published work includes BRITTEN AND BRÜLIGHTLY published by Jonathan Cape in 2008. It has been translated into Italian, Dutch, Serbian and French, with the French edition chosen as part of the official selection for the 2010 Angoulême International Comics Festival. Her second graphic novel ADAMTINE was published in 2012, also by Cape. You can find out more about Hannah and her work here.
Katie Green, Alex Bertram-Powell, Jade Sarson, and Hannah Berry – that's a lot of talent – this book is certainly going to look great. Now let's see if I can write something decent…
Writing the book
The book is an answer to this question – 'If I could have a conversation with someone who has experienced rape or sexual abuse but has never come forward for any help, what would I want to say to them?' Much of this answer comes straight from the research report – but not all of it. So I have a fair bit of writing to do before I can hand the book over to the illustrators.
My 'process' of book writing is to surround myself with notes, coffee, and cake (ideally banana bread but courgette cake or carrot cake make adequate substitutes).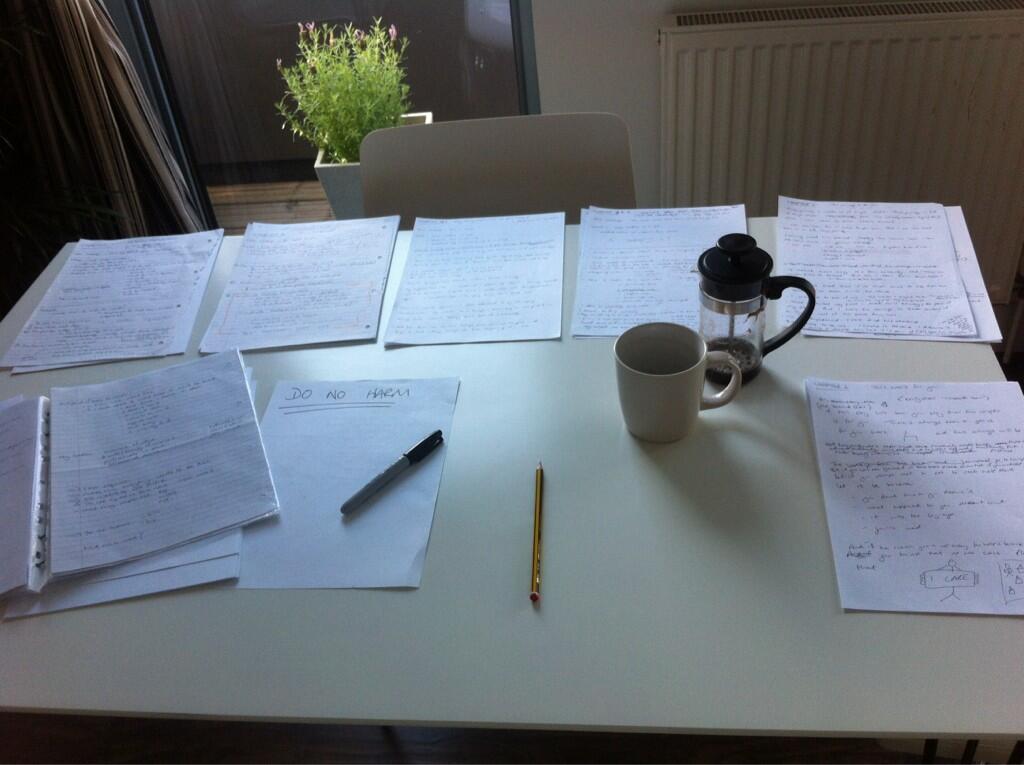 I'm loving the process of helping the book evolve from a research report, to ideas, to notes, to chapters, to a storyboard. This book has been with me for eight months now – I'm excited about being a step closer to sharing it with others everyday.
Holding the ethics of this book
This book is a challenge to create for all sorts of reasons but one of the biggest challenges is the responsibility and ethical considerations of creating a book like this. The kinds of issues I'm wrestling with are: What if the book 'triggers' (causes a traumatised panic reaction) anyone with a history of abuse who reads it? What information about recovering from rape and abuse should I include/exclude? What if I accidently reinforce some stereotypes? What if I accidently discourage people from accessing support services? What if I set people up to fail by making recovery from abuse look easy?
So how do you deal with these challenges? Well, first of all you get some help.  Kim Hosier (the Centre Director at PARCS) and Zoe Lodrick (a specialist therapist and trainer) have both been really great at talking through all of these issues with me – and I know that they will both be with me throughout the creation of the book.
The other thing you do is you go easy on yourself. You do the best you can to mitigate harm but you recognise the fact that your efforts won't be 100% successful. I'm not going to get it totally right. The only way I can guarantee not to cause harm is to not produce a book – but then the harm I would be causing is to leave these stories untold. So I keep moving forwards – treading carefully as I go…
Meeting the characters in the book
The illustrators are hard at work. This week I was introduced to the first two characters from the book for the first time. These are initial sketches from Jade and Alex:
What I most like about these characters is that they are not at all like the characters I had in mind. Obviously I've been working on this book for a while – so I had an idea of what each character would look like in my mind. But I wanted to give both illustrators a free reign because there was no way they could get it wrong – there is no 'look' that unites people who have experienced rape or sexual abuse – they look like everyone and anyone. My brief to them could have been 'draw a person' (but I did give them more guidance than that…). Now I need to create the character for my chapter (gulp!).
Drafting our chapters
Things are progressing at a really good pace now. Both myself, Jade, and Alex are hard at work drafting our chapters.
Jade Sarson is creating chapter 1. This chapter tells the story of one of the characters during their first session of group therapy. One of the themes that this chapter explores is attitudes towards rape and sexual abuse. Our character had lived her whole life thinking that rape only occured in dark alleyways at night time. When she was raped under very different circumstances by someone she knew and trusted she struggled to believe what had happened was real. Her coping mechanism was to detach herself from reality – she felt like she lived her life in a double-glazed box – which Jade has illustrated below.
Chapter 2 is being illustrated by me. This chapter explores the 'science bit'. It's a chance for me to share some of the things we know about how our bodies and brains respond to trauma. Rape or sexual abuse will trigger a traumatic response in everyone. Many people who have experienced rape or sexual abuse are confused and concerned about how their experience has affected them. They can be worried that they have gone mad – when in fact they have responded perfectly normally to something traumatic. This chapter is called 'So… I'm not mad then?', in it I explain why many people do not fight off the person who is attacking them, why the experience of rape or abuse can affect you for many years, and how therapy can help you.
Below I illustrate 'the window of tolerance' this is a metaphor used in therapy to help people understand why they may often feel numb or in a state of panic.
One of the things that's happened whilst I've been drafting my chapter is that I appear to have created a more 'cartoony' version of myself. This was unintentional – I was just trying to save time. But I actually quite like this character and might keep her – I'll give her proper hands in the real thing though…
(I do wish I could give everyone one of those leaflets…)
Making progress
Today is an exciting day for me because I get the chance to share a full chapter with you for the first time. Chapter 1, illustrated by Jade Sarson, is now live on my website in draft form. Jade and I have been working hard together to get to this stage (I think the version I've published is the 4th draft). The final version will include a few minor changes and of course it will look even better because Jade is going to take her rough drawings and work her magic on them. You can read the draft chapter here.
The other illustrators are also hard at work. All of us have created our characters now. Below are the character drawings from Hannah Berry and Katie Green:
And me? My chapter is fully drafted and my job this month is to follow Jade's lead and try and get a final version underway…
Producing my chapter
Weighing in at 26 pages and most definitely managing to squeeze every ounce of cartooning ability that I have – chapter 2 is now finished. It has been the hardest bit of doodling that I've ever done. But it has also been a lot of fun to produce. There have been many moments over the last few weeks when I have caught myself smiling and singing away whilst doodling an image of 'cartoon me' swirling in a torrent of trauma or otherwise having a pretty horrid time of it.
It's been fun watching my drawing ability grow throughout the process. I decided to ditch the tracing paper and trust myself to draw for this chapter. It's been a steep learning curve. But I'm really proud of some of the drawings – they are head and shoulders above some of my earlier work and I can see that I'm slowly getting more ambitious about the types of drawings that I'll take on (me being hit by a tidal wave – sure – I can do that… I think!).
The other challenge has been the content. Unlike the other chapters there isn't a clear narrative to chapter 2. It's very much 'the science bit' and that science has been really challenging to distil. There is always a trade-off between making something easy to understand and 100% accurate. Us researchers like our detail and our caveats. Reducing something as complex as trauma into a few hundred words goes against every bit of my professional training. But – I think it works. And unlike many academic papers I think that people will read it, understand it, and relate to it. Which is what it's all about.
You can read the chapter here.
Full steam ahead…
Welcome to 2014. Now I can say 'the book is coming out this year!'
We're on track to have a completed book in March. It might take me a fair bit of time to then turn it into an ebook and a printable book (and arrange a launch party) but in terms of content we are right on track.
Today I get to share some images from chapter 4 with you.
Chapter 4 is being illustrated by Jade Sarson – you'll recognise her work because Jade also illustrated Chapter 1. Jade has stepped in to fill Hannah Berry's shoes as Hannah had taken on one project too many and sadly had to leave our band of merry illustrators.
The chapter is called 'Along came hope' and features Beth, a woman who was sexually abused from a young age and for whom the first encounters with hope are terrifying. This chapter is the darkest chapter in the book. I wanted to make sure the book didn't give the impression that all you need in order to recover from abuse is 10 sessions of group therapy. Beth shows us the scale of the task ahead of her and how she needs to learn a new way of living.
Jade is doing a great job of the illustration and is working so fast I'm struggling to keep up with her.
The rest of the book is coming along nicely. Alex is starting work on the final set of images for chapter 3 and Katie has started creating chapter 5 (which I'll share with you next time). I need to pick up my pencils again in February so that I can re-edit chapter 2 and finish off the book with chapter 6. So still plenty to do and I'm conscious that this is the easy bit. Ahead of me is publicising the book, media training, and then (gulp!) trying to get as much press coverage as possible because I want people to find the book.
It's useful to be creating a book about courage – I think I'm going to need some.
It's all coming together…
The book is officially in full swing – so brace yourself – there is a lot to update you on.
Chapter 5: This chapter is being illustrated by Katie Green. In this chapter we finally meet Maddie. Maddie has appeared throughout the book but it takes her until chapter 5 to find her voice – and it's a beautiful one. The chapter has the same title as the book. Maddie helps us see that her journey is about having the courage to be herself.
Katie and I have worked through a couple of drafts to get to the final outline for the chapter – now it's down to Katie to produce the final images. If you've read Katie's book Lighter than my shadow you'll know that this is going to be a really special chapter.
Chapter 4: Is done (!). I have no idea how Jade has managed to produce such beautiful work so swiftly. But she surely has. The chapter is as dark and as moving as I hoped it would be. I'm afraid that you'll have to wait before you get to see it in full – I'm going to hold back chapters 4, 5, and 6, for the final book launch in late March. But here's one of the pages to help you get a feel for the chapter:
Epilogue: Here's something you can read right now in full. Never one to be shy of breaking with convention I've already published the epilogue of the book. You can read it in full here. I wanted to publish this in time for 14th Feb which is V Day, an international day of raising awarness about sexual violence.
The epilogue is illustrated by Heather Wilson. It's a chance for me to tell another story about this space that never gets told – the story of the organisations that support people who've been raped or abused. In the epilogue I feature a personal hero of mine – Kim who runs the PARCS which is where I conducted the original research for the book. It frustrates me that people like Kim are as invisible to society as the women, men, boys and girls that they support. I hope the book can play some small role in changing that.
Of course there is all the stuff I haven't told you about too – Chapter 3, Chapter 2 re-write, the preface, Chapter 6, and the video… I best stop writing this – and get on with them.
Nina
Learning how to become a publisher
The courage to be me is an important step closer to being in the flesh. This morning I took delivery of my self-published test books. I've never published a book before so it's been a steep learning curve. Self publishing anything isn't that easy, self publishing illustrated content is pretty ambitious for a novice. I've had to sort my RGBs from my CMYKs and learn new jargon like 'bleed' and 'gutter margin'. The whole thing has felt a bit like banging my head against a wall for a couple of weeks. But I must have a thick skull because on my 19th attempt I finally cracked it:
Sitting down and reading the book (so far) for the first time was a pretty special moment.
I wasn't sure the printing process would come out too well. But actually the book looks really great. It seems it really will be ready as a printed book in March. I'm really looking forward to you being able to see it in the flesh too.
Chapter 3 published online
Today I get to share a whole new chapter with you. Chapter 3 'I see me in you' is illustrated by Alexander Bertram-Powell.  In the chapter we meet Jean who tells us what it was like to be in a group with other people who'd also experienced rape or sexual abuse. One of the main findings from the research project that this book is inspired by was that the women benefitted greatly from working in a group. Jean trys to explain why meeting other survivors helped her.
Everything else is progressing really well. Katie is about to wrap up Chapter 5 and my pens are out and working furiously to finish Chapter 6 by the end of the week – this is definitely the home stretch now…
Happy birthday me.
This is the update I've been looking forward to posting for almost a year.
Today is my birthday. My gift to myself was to work, so that I could end the day saying these words: 'The courage to be me' is FINISHED.
There will be many 'thank yous' over the coming weeks. But for now – what do you do when you finish your first book? Well, in my case I cry for a bit and then I sit in the sun with a very big smile on my face. Happy birthday me.

A life experiment continues…
March 24th is a special day in the 'Nina Burrowes' calendar – and this year it's even more special thanks to The courage to be me.
Today I celebrate the anniversary of a one year life experiment that became a catalyst for quite a few things in my life – not least of all my cartooning. The experiment was all about giving myself time and space to grow – I wanted to know what would happen if I put myself in my ideal environment for a year. Last March I celebrated the end of the experiment by posting this blog post that told the story of my experience.
This year I get to celebrate the 24th March by holding a copy of The courage to be me in my hands and also being able to officially call myself an author. The courage to be me will be launched a week today. The little book on authenticity (which is an illustrated book that I've been creating alongside The courage to be me) is already out as an ebook and will be available as a paperback this week.
I think it's safe to say that my adventure continues.
Thanks for being a big part of this piece of my adventure.
I'm very excited about being able to share the whole book with you next Monday.
Nina
PS – What would happen if you 'gave' yourself a year?
Launch day – 31st March 2014

We did it.
Today 'The courage to be me' is available to read in full on my website, to buy as an ebook, or to buy as a paperback.
Thank you so much for being with me throughout this whole process – for your donations, for your messages of support, and for helping me to spread the word about this book.
I'm happy to tell you that the book is already managing to make a difference. I regularly get emails from people who are struggling and have managed to find their own strength after reading the first few chapters of the book. After today that impact can only get bigger and better.
Of course my work with the book is only just beginning. My task now is to work towards a BIG launch party – hopefully the kind of event that will get the book some press coverage. I'll look forward to telling you about that soon, but for now – please have a look at the book and be proud of what you've helped to make happen.
Nina
And then the work really started…
Hello! Six weeks after book launch and it feels like the hard work is really starting. I've been very lucky to get some coverage about the book on some blogs (Louder than war, The Big Comic Page) and podcasts (15 Minute Radio) but getting some mainstream press coverage for a self-published book, by an unknown author, with the phrase 'sexual abuse' in the subtitle is proving to be challenging. Happily, helps is at hand: Kirsty Lowe from Survivor Media is boldly treading where few other PR people would go. She's been working with me to get some press coverage for the book – we will get there – eventually…
In the meantime the most important thing is that the book seems to do what I hoped it would do. I have had many emails from people who have read the book. They tell me that reading the book has helped them feel hopeful, less alone, less broken and has helped them find the courage to get the help that they need and deserve. That's everything I hoped the book would do – and reading those emails just fuels my determination to get the book in the hands of more people.
To find out what people are saying about the book (and to add your own review too please) click here.
Reading the reviews on Amazon is one of my new ways of being able to cheer myself up 🙂
And finally,  The courage to be me is ready for its first public outing. This will be a small, social night – a chance to come along, say hello, ask any questions, buy a copy, get your copy signed, and pick up some flyers if there are people you want to tell about the book. It'd be lovely to see you if you can pop in: Thursday 22nd May, 6-8pm, Riverfront Café and Bar, BFI, Belvedere Road, London, SE1 8XT

A big London book launch and a book tour of the UK are to follow. I just need to arrange them…
Nina
Meet the author